Author: Airtripper, published on 2013-08-01
Summary
Full documentation for the extruder is here:
http://airtripper.com/1764/airtrippers-direct-drive-bowden-extruder-v3-bsp-edition/
Extruder Filament Drive Gear Review & Benchmark
http://airtripper.com/1676/3d-printer-extruder-filament-drive-gear-review-benchmark/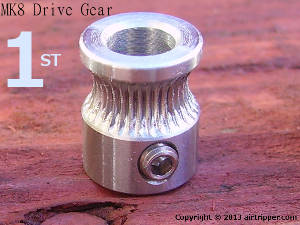 Airtripper Direct Drive Bowden Extruder BSP Edition
---
Designed for 1.75mm Filament and Nema 17 Stepper Motor
This is the latest edition of the airtripper extruder series with many improvement tweaks and now is sporting a BSP fitting filament out feed socket.
The extruder has worked well with the MK7 drive gear and was able to push more than 3kg of force with stepper motor type SY42STH47-1684A.
I've not posted any information about the latest extruder design, however, the previous extruder design still provides a good reference.
http://airtripper.com/1071/airtrippers-bowden-extruder-v3-updated-design/
Mark
Instructions
Full documentation for the extruder is here:
http://airtripper.com/1764/airtrippers-direct-drive-bowden-extruder-v3-bsp-edition/
If you are looking to upgrade from the previous version you would only need to change the extruder main body.
Printing
Skeinforge and Slic3r have been used but Skeinforge seems to provide the best results.
Infill Solidity (ratio) can be between 0.2 and 0.3
Layer Height 0.25mm
Non-printable Parts List
The parts below may be available as a kit from ebay; search airtripper to find the listing.
More about the assembly can be found here: http://airtripper.com/1764/airtrippers-direct-drive-bowden-extruder-v3-bsp-edition/
2 x M3 Washers
4 x M3 Full Nuts
1 x M3 25mm Socket Cap Screw
2 x M3 30mm Socket Cap Screw
1 x M3 6mm Socket Button Head Screw
1 x M3 10mm Socket Button Head Screw
2 x M3 45mm Socket Cap Screw
1 x 608ZZ Ball Bearing
1 x 6mm ID Rubber Hose
1 x 1/8″ 4mm BSP Push Fitting
License: Creative Commons – Attribution – Share Alike
Tags: airtripper, bowden, extruder, extruders